5 components every smoothie needs
Samina Qureshi is the Registered Dietitian Nutritionist and owner of Wholesome Start. Her nutrition practice is based in Houston, Texas and she provides virtual nutrition counseling sessions to clients across the country. Schedule your FREE 15-minute nutrition session today!
Today marks Wholesome Start's first monthiversary! In celebration of my first month sharing my nutrition knowledge with clients, friends, and family I wanted to set you up with some of my basic smoothie making tips. A week ago I asked you what you wanted to know about smoothies, and the most commonly asked question was, "What makes a balanced smoothie?"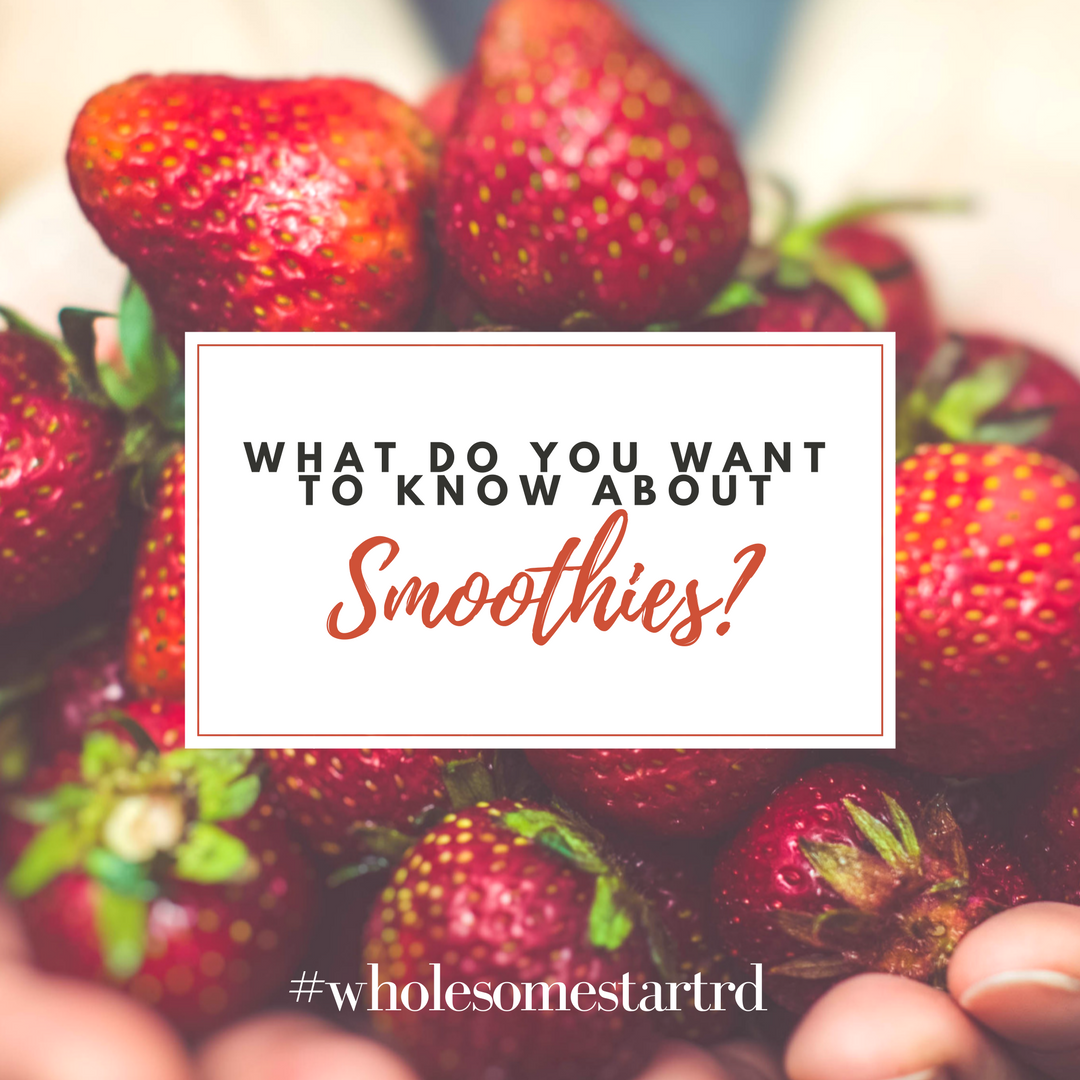 The most commonly asked question was, "What makes a balanced smoothie?"
My short answer to this question is a combination of carbohydrates, fiber, protein and healthy fats. But don't worry, I'll break my answer down into 5 components every smoothie needs to ensure it's delicious, balanced, and packed with powerful nutrients.
Whether you're making a smoothie for a post workout snack or a quick nutrient-rich meal there are 5 components necessary for it to be balanced in my books: a liquid base, powerful nutrients, protein, flavor, and a natural sweetener!
Base: Start with 1 cup of ice water, milk/milk substitute, kefir, coconut water, or juice.


Nutrient Boost: Choose 1 or all three to enhance your smoothie with vitamins and minerals!
Pro tip: purchase fresh fruits and vegetables that are in season, they are usually less expensive.
1/2 cup of fruit (bananas, berries, melons, peaches)
1/2 cup of veggies (spinach, kale, celery, zucchini, cucumber)
1 serving of healthy fats (ground flaxseed, chia seeds, nuts)


Protein Power: Power up your smoothie with 1 serving of your favorite protein!
Greek yogurt, raw nut butter (almond, cashew, peanut etc.), Silken soft tofu, protein powder (whey, hemp, protein, etc.), collagen powder.


Flavor Enhancers (optional): Enhance your smoothie with herbs and spices (ginger, turmeric, mint, cilantro, cinnamon, cardamom, etc.) or shredded coconut.


Sweet Treat (optional): Craving something sweet? Sweeten up your smoothie naturally with honey, dates, frozen fruit or fruit preserves!
I love using kefir as my liquid base in smoothies because it covers 3 of the 5 important components of a balanced smoothie: liquid base, powerful nutrients, and a boost of protein. Kefir is a cultured dairy drink that is packed with protein, calcium, and live active cultures to support immune and digestive health. Check out my Berry Kefir Smoothie recipe below to add some gut healthy pre and probiotics to your diet! There are a variety of ways to add probiotics to your diet including a food first approach and supplements.
Berry Kefir Smoothie
Wholesome Start, LLC
www.wholesomestart.com/nutrition-blog
This berry delicious smoothie recipe will have your taste buds going wild! It's packed with protective phytonutrients, flavor, and probiotics for a healthy gut!
Ingredients
1/2 cup

Unsweetened Kefir

1/2 cup

Water

1

Frozen banana

1/2 cup

Frozen berries (blueberries, raspberries, blackberries, strawberries, etc.)

1 handful

Mixed greens

1 Tbsp.

Nut butter (almond, peanut, cashew, etc.)

1/2 Tsp.

Chia Seeds
Instructions
Add all ingredients to blender
Blend until smooth
Top with chia seeds & enjoy!
Details
Prep time:
Cook time:
Total time:
Yield:

1
Combining healthy fats, good quality protein, carbohydrates and fiber make for a balanced smoothie that will keep you full and energized until your next meal or snack. I'd love to hear about your favorite smoothie combinations, leave me a message in the comment section below! Happy smoothie making!