Recipe for success: crustless quiche
Samina Qureshi is the Registered Dietitian Nutritionist and owner of Wholesome Start. Her nutrition practice is based in Houston, Texas and she provides virtual nutrition counseling sessions to clients across the country. Schedule your FREE 15-minute nutrition session today!
It's Sunday and you've got the weekend blues. Sound familiar? I go through this almost every weekend especially when it comes to planning our weekly meals. I know it might sound overwhelming, but a little food prep goes a long way! I promise you'll thank me later!
Start off with planning one meal you or your family can easily enjoy throughout the week. It can be as simple as keeping fresh fruits and vegetables ready for snacking on the go or cooking dinner and packing leftovers. My mornings are packed with studying before work, getting ready, and prepping breakfast and lunches for the day. But I have just the trick to help you make your mornings run a little smoother! This week I prepared my handy crustless quiche to make things easier. I love this dish because it's a simple mix-and-bake recipe that you can pop into the oven while you're enjoying the rest of your weekend. Not only is this recipe easy, it's delicious and packed with those nutrient rich vegetables to keep you energized and full until your next meal or snack!
RD Tip: Check your fridge for neglected produce to reduce your food waste! You can chop up spinach, kale, or other greens and add them to the recipe for a boost of vitamins, minerals, fiber and flavor! Talk about killing two birds with one stone!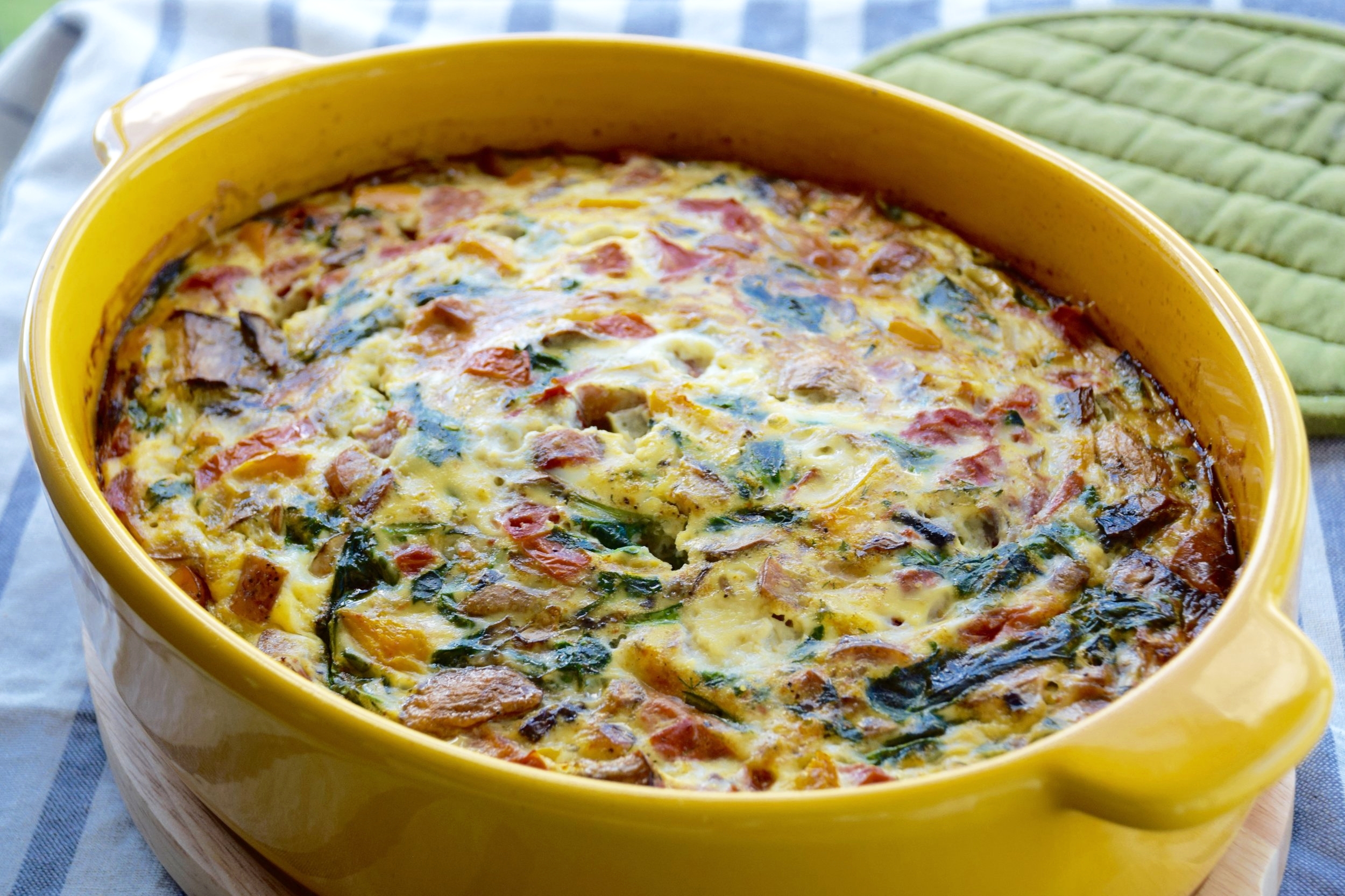 Quick, Delicious & Family Approved!
Crustless Quiche
Wholesome Start, LLC
www.wholesomestart.com

Quick, Delicious & Family Approved!
Ingredients
8

eggs

1/2 cup

2% milk

1 1/2 cup

mixed greens

8 oz

mushrooms, sliced

6 oz

turkey slices

1/4 cup

cheddar cheese, shredded

1/4 Tsp.

pepper

cooking spray

additional herbs/spices
Instructions
Preheat oven to 400 F
Spray casserole dish with cooking spray
Chop mixed greens
In a large bowl, whisk eggs, milk, mushrooms, turkey, greens, pepper and seasoning
Carefully place casserole dish into oven and bake for 30-40 minutes or until fully cooked. (Baking time may vary)
Cool for at least 30 minutes and enjoy! www.wholesomestart.com/nutrition-blog/crustless-quiche
Details
Prep time:
Cook time:
Total time:
Yield:

6
Nutrition Information: 1 serving
Calories 165, Total Fat 7.9g (Saturated Fat 3.1g, Trans Fat 0g), Cholesterol 240mg, Sodium 666mg, Potassium 216mg, Total Carb 5.6g (Dietary Fiber 0.7g, Sugars 2g), Protein 17.7g
Pair this crustless quiche with a side of hash browns, fruit, or sweet potato "toast" for a delicious, balanced breakfast! I'd love to hear how you prepare for a successful week in the comment section below!
Sign-up for your FREE 15-min consult today to learn how to ditch diets for good, get back to enjoying your favorite foods, and reclaim your health! Be the first to know about the latest nutrition trends by joining the Wholesome Start Tribe!